WHAT TO SEE IN THE AREA
Environment
Montsonis Castle
It is located in the town of Montsonís, in the municipality of La Foradada.
It is one of the fortresses built in the area, which defended the border between 'Old Catalonia' and 'New Catalonia' for 125 years.
Sanctuary of Mare de Déu de Salgar
This monastery, built in honour of the Mother of God, is located near the municipality of Foradada. It is nestled in the rock of the mountain at the foot of which the river Segre flows and in whose gorge the water has carved out different caves.
The Sant Llorenç Reservoir
The San Llorenç de Mongai reservoir is located on the river Segre, between Camarasa Fontllonga and Balaguer, downstream from the confluence of the rivers Segre and Noguera Pallaresa.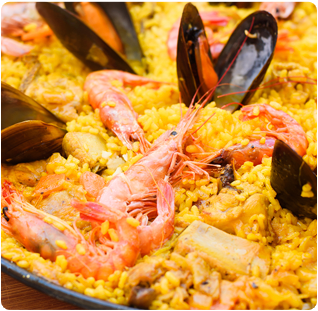 OUR RESTAURANT
Enjoy a good gastronomy
We have dishes to suit all tastes, whether paellas, fideuás, grilled meats .
And if you prefer, we also have tapas!
ACTIVITIES
Come and discover Alòs de Balaguer and the activities it has to offer you
In this area of La Noguera you can do many activities on foot or by mountain bike; there are also hunting grounds nearby.